Interview with Christian Amling
From an apprenticeship to the Management Board – sounds good, but is it really possible? And if it is, then only in the commercial area and not in a technical area right?
Christian Amling did just that at profine. As a former trainee, he was promoted to the top management. In the interview he talks about his impressive career, his greatest challenge and provides some advice.
Let's start chronologically: When and in which position did you join our company?
I started as a plastic moulder trainee in 1989. This is the predecessor of today's process mechanic for plastics and rubber technology.

I came to the company through my father, who was a shift manager at the Dynamit Nobel AG, from which HT Troplast and ultimately profine emerged.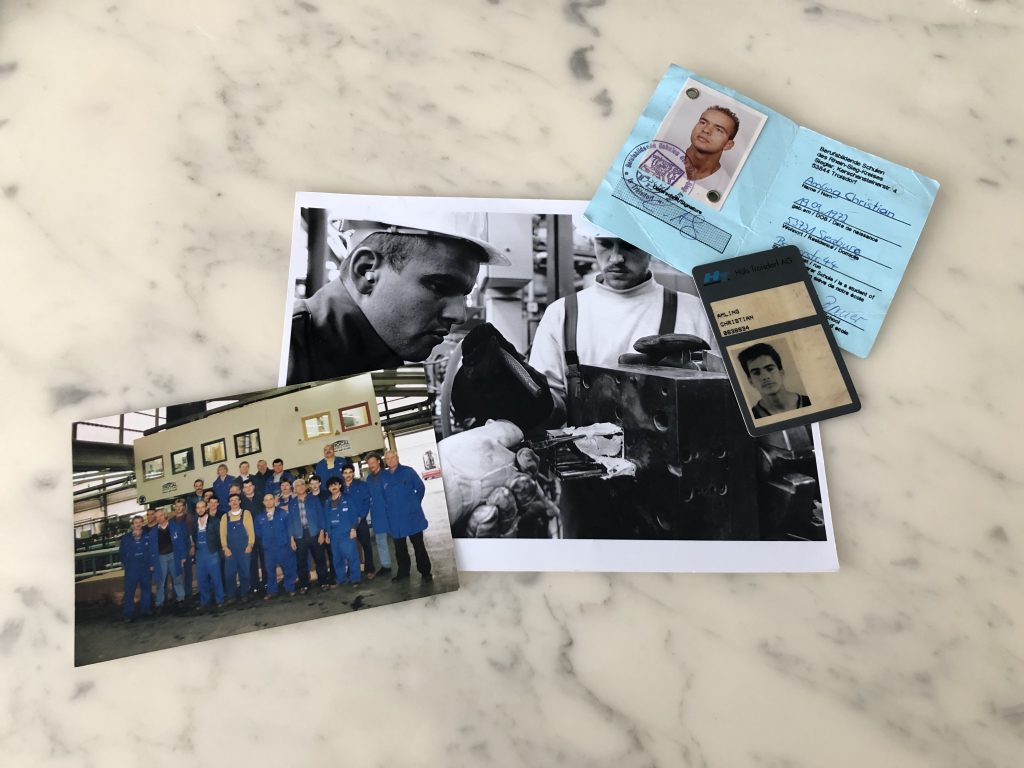 Why did you choose this profession back then and what is its significance today?
Right from the start I was enthusiastic about designing and shaping something.

The current importance of the process mechanic cannot be estimated high enough today. They are the backbone of our production – without them there would be no added value and than we don´t have any sales.

That's why the majority of our employees work on our machines, especially the extruders.
How does the story continue?
After completing my apprenticeship, I had to do my military service. Then I returned to the company as a machine operator at the extrusion line. So I worked in 4-shift operation for a few years, where I became a trouble shooter, who solves problems. Beside working I made my Final degree as a certified plastic & kautschuk engineer.

With my degree, I switched to tool department and implemented several projects for profine in Europe and Russia. In 2006 I took over the construction department in Troisdorf, where I was responsible for machine and tool design and construction. At the same time, again I was studying alongside my job and made my final degree in technical business Administration.

In 2010 I relocated for profine 20kto with 22 machines and 60 new employee's from Troisdorf to PIrmasens successfully in 12 month period and lead the department as a Production Manager till the middle of 2012. After almost two years as a production manager, until the greatest challenge of my life has been offered to me …

Our owner and CEO, Dr. Peter Mrosik, gave me the task me to set up a production site in India. I should build a completely new plant from the scratch, including infrastructure, new employees, production, with overhauled machines created by myself, new tools, logistics, software systems, cost calculation and pricing, etc. – the complete package – from zero to hero.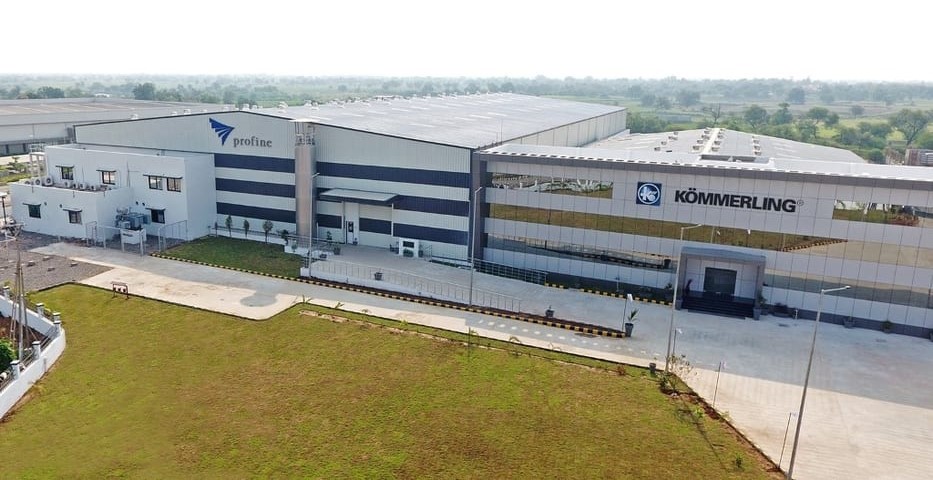 How has this challenge shaped you?
More than anything else! On the one hand, it was the greatest learning effect of my life. No matter how much theory about business administration you study in school or university, you can only build up real know-how and expertise in practice.

On the other hand, I have realized how important it is to have a functioning team in which colleagues learn from each other. A team is always smarter than one person alone!
How and when did you make the leap to the Management Board?
After the production in India started and the project was successfully completed, I managed our Berlin plant for a year.

At the end of 2015, the old COO (Chief Operations Officer) of profine decided to retire. When Dr. Peter Mrosik offered me the position and the promotion to the Management Board, it was a no brainer and a great honor for me. After all, I am a child of the company and have given everything for more than two decades.
Our Management Board consists of five people. What role do you play within this group?
As Chief Operations Officer, I am responsible for the entire value adding process in terms of quantity and quality. Everything has to be at the right place in the right time.

Operations includes the production areas as well as the Technical Competence Center, International Operations Management, Kaizen and the Energy Management.
What is special about profine as an employer?
Of course, as in any other company, everyone has their tasks and duties that they should fulfill.

The outstanding aspect is that everyone has the chance to achieve evrything.

If you put your heart, soul and passion into profine, you will definitely receive something back. My career is the best example for this.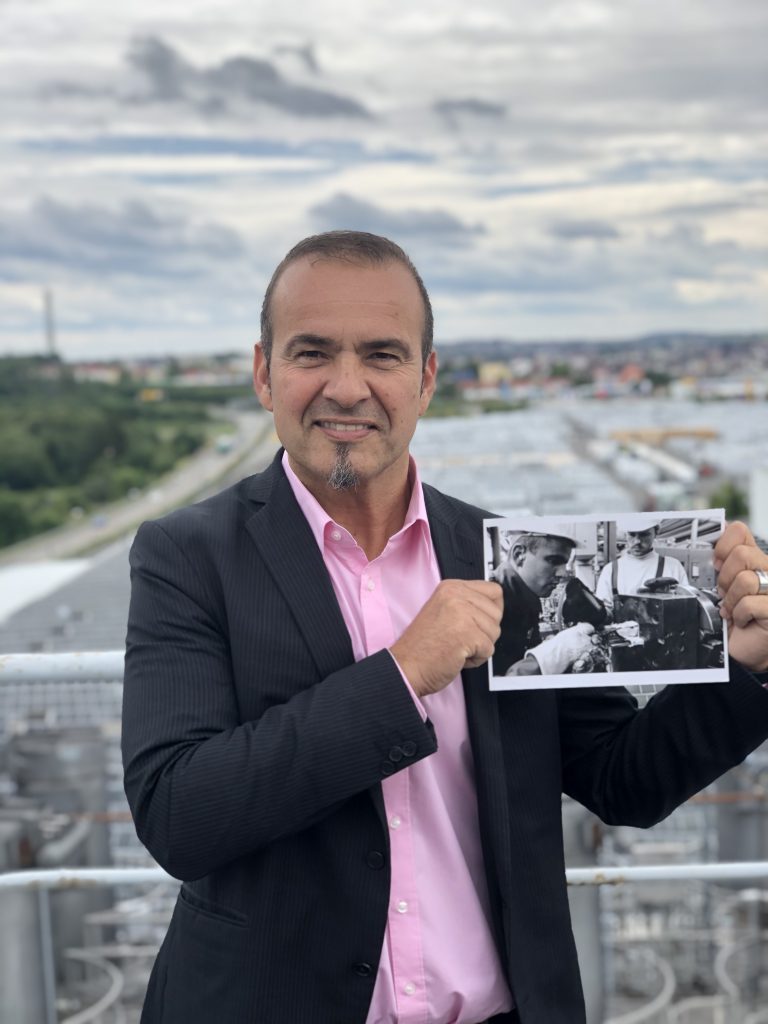 From the apprenticeship to the Management Board – is this still possible today?
Absolutely! But this is up to you. This requires above all flexibility and the ability to think outside the box.
We have now heard a great story about Christian Amling, COO of profine, who started at the extrusion line 30 years ago, established himself as a trouble shooter and production manager and then made the leap to the Management Board via India. But what is Christian Amling doing privately?
I've always been very eager to learn and hungry for success. I was able to live this out especially in sports. I used to play soccer as a captain up to the fourth highest league. The success of my team has always driven me.

Sports still play an important role in my life today. I do pushups every day after getting up and before going to sleep and run 20 to 30 km a week.

But by far the most important thing in my life is my daughter!
Regarding your career, you are of course a role model for others.
To wrap things up, do you have a piece of advice for young people concerning their career?
You should deal with your future as early as possible and decide on your personal path. Even if this path will be sometimes bumpy, you should not let it dissuade you and end it with passion.

My personal drive has always been to improve myself every day: if I run the 100 meters in 11 seconds today, my goal is to do it in 10.9 seconds tomorrow. You have to learn from your mistakes and do things better tomorrow. You cannot change the past, but we can shape today and tomorrow.

Everyone grows and prospers with success, but above all also with failure. It is important to get up – again and again!